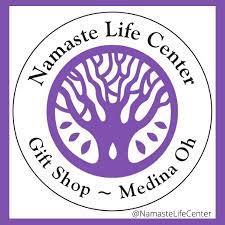 Namaste Life Center & Gift Shop
Category
Namaste Life Center and Gift Shop is woman owned and operated crystal and mineral boutique gift shop located just minutes from Medina Square.
We offer over 200 crystals and minerals to choose from.
Come discover our  6/$5 Tumble Stone Special. It's a great way to start your collection for all ages. We carry the largest selection of tarot and oracle Cards in Medina, Candles, Incense, Sage, Salt Lamps and so much more. You will find many handmade items from local artist. Try our Sage Sprays as an alternative to burning sage, handmade by the owner, Theresa Fisher.
Each sprays is made with Love, Blessings, and Reiki infused Quartz Crystal to fill your sacred space with Love, Blessings, and Positive Energy !!
620 East Smith Road W6 Medina, Ohio 44256, United States
Contact Info
620 E Smith Rd W6, Medina, OH 44256