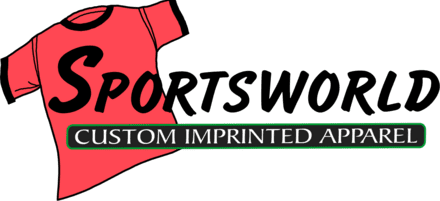 Sportsworld Custom Imprinted
Category
SPORTSWORLD Custom Imprinted Apparel was established in 1997.  We have many years of experience in the screenprinting and embroidery industry. Our standards are exceptionally high and we are a team of professionals that work hard to produce the highest quality custom garments in the industry.
OUR PHILOSOPHY – We treat every order as if it was being prepared for our friends, family, or ourselves. We make sure each order is delivered to you with the highest quality of craftsmanship and is produced to your satisfaction, so when we see you at "the Game", "the Event", on television or just in our daily adventures we can take great pride in the quality and craftsmanship of the work. We believe the order we are producing for you today is an "audition" for your future apparel needs.
OUR QUALITY – We use only the highest quality, most well-known brand names in the industry.  Every garment we produce goes through our stringent quality control department, assuring that our garments always surpass your expectations.  Your finished product is not only a reflection of you but of us.   We decorate every piece in-house so we can control the quality.  From taking your order, designing your artwork, decorating your garments, quality control to packaging and shipping, we handle every step, ensuring your order will be produced on time, accurately and shipped when you need them.
OUR MISSION – Our mission is simple: to provide the best products and services to our customers at the fairest prices possible. We take great pride in our company, our commitment to customer service and in the products we sell. Our online store is designed to provide you with a safe and secure environment to browse our product catalog.
We are your SCREENPRINTED and EMBROIDERED Apparel Specialists. Sportsworld is a leader in screen printed and embroidered apparel. We are a professional apparel decorating company that is totally focused on taking care of YOU, our customer. You get quick, quality products and service at discount pricing!
FREE ARTWORK and LOGO CREATION with your order
Our art department will bring your design ideas to life.  We'll design your team's spirit-wear, uniforms, corporate wear, reunion shirts, fundraising apparel, event, race or youth camp apparel, and more, NO CHARGE!  We can do it for you or can use our ONLINE APPAREL DESIGN WIZARD and do it yourself.
NO SET-UP FEES for your printed order
We don't charge you all those set-up fees and artwork charges other companies do.  Our price is your "out the door" price, no hidden or extra charges for set-up or artwork.  One price printed your way!
Visit our online SPIRITWEAR STORE
We have spirit-wear for MEDINA schools in stock at our retail store at 213 S. Court St. Medina, Ohio, or online at our Spiritwear Web Stores.  We invite you to stop in or browse through our online products and shop with confidence.  Create an account with us if you like, or shop as a guest.  Either way, your shopping cart will be active until you leave the store.
213 S Court St, Medina, OH 44256
Contact Info
213 S Court St, Medina, OH 44256